Grange Road Caulfield Campus  - Enrol Now

Headland Montessori Grange Road is open to support Melbourne families with our high quality Montessori Long Day Care programs. In collaboration with Melbourne Montessori School, our Grange Road Caulfield Campus features:
Authentic Montessori Long Day Care (7:30 - 6pm) for children aged 3m to 6 years - 52 weeks per year.
Montessori qualified educators in every classroom.
Funded VIC Kindergarten Program - Highly qualified VIT Registered Early Childhood Teachers (3-6 years).
Cycle 1 - extended day program developed and delivered in collaboration with Melbourne Montessori School.
State of the art classrooms, Gonzagarredi (AMI approved) furniture/materials throughout.
Bespoke, nature-based, outdoor learning program and environment.
Headland's bespoke Montessori at Home program to continue your child's Montessori education at home!
Nutritious and delicious meals provided - in-house master chef.
Staffing roster that exceeds national staffing ratios.
Call us on 03 8080 9668 for a tour of our beautiful centre at Grange Road. .
Fee Structure
Nido (0-18month) – $160
Infant Community (18month to 3 years) – $150
Casa (3 years – 6 years) – $145
Fees include Montessori Registered™ educational program across all age groups. Long Day Care – 7:30am to 6pm. All meals prepared by in-house chef and nappies. Entitlements to Childcare Subsidies.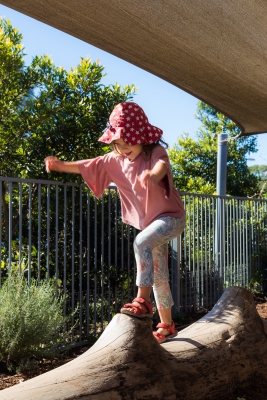 Enrolment Process
Book a tour using the Enquiry Form above or call us to speak to our Centre Director about our offering and programs.
Completing the Expression of Interest Application form. Children's names will be placed on our waiting list database in the order of date received.
Offer letter will be sent out to parents once a placement become available by email.
Enrolment forms/information package are sent out once we have received acceptance of offer form and enrolment fee payment of $200.
Note: the initial offering of our service at launch will be limited and priority will be given to existing families with children attending or associated with Melbourne Montessori School.
Announcements
Oct 2019 - Collaborating with Melbourne Montessori School
We are delighted to announce  Headland Montessori and Melbourne Montessori School (MMS) will be collaborating on the delivery of our Cycle 1 - (3-6 Years) Montessori Pre-School program!
This is a unique partnership enabling teaching staff and resources of MMS to be completely embedded in the Headland Montessori Long Day Care service.
"We are thrilled to be partnering with Headland as the quality of their long day care shows careful planning and outstanding attention to detail through totally engaging and educational activities." Gay Wales - Principal of Melbourne Montessori School.
---
Testimonials of Our Headland Families
Paige built some fabulous relationships with both the educators and her peers in the NIDO room. The relationships with the educators was built on trust, warmth and communication. During her time in NIDO she developed increased confidence, independence and communication skills and learnt more social skills.
All of the staff are fantastic and go out of their way to be helpful and informative.
At pick up, I have to pry Will out of the centre as he is having such a great time."
The group lectures for parents and gatherings were very supportive as well as making contact with other parents and journeys to support the process.
!! The lecture on emotional readiness was gold !! And not to miss the amazing cook !! Which is also top of the list.
They strive to give the best they can at any given moment. It's a beautiful team.
We are so grateful to headland Montessori for opening at the perfect time for us and causing us to fall in love with the Montessori methodology. We believe our children and whole family are better because of our Montessori experiences.
Thanks again for being an amazing school with the best of carers available, we cannot express our appreciation enough.